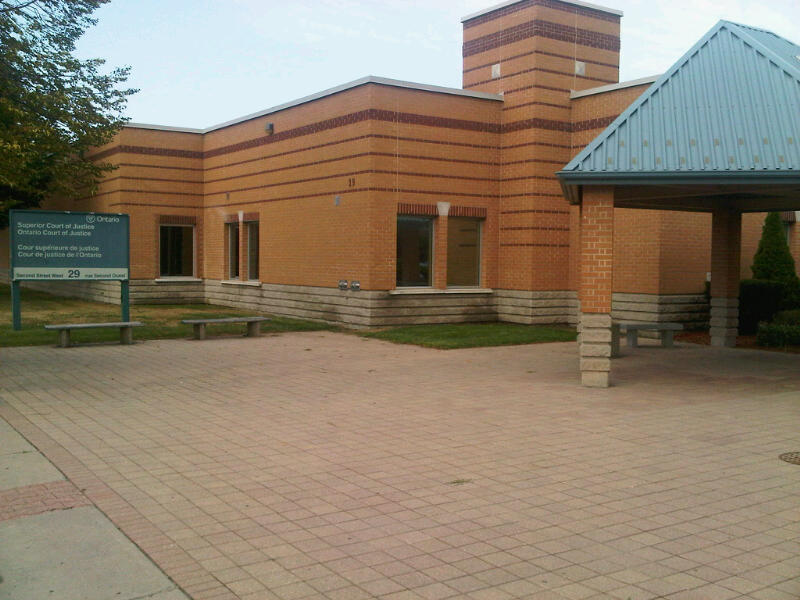 CORNWALL – A Cornwall man convicted in a "jacked up" spree of armed robberies in the city, fueled by a need for money to buy drugs, has been given a jail sentence of two years less a day.
John Pecore, 34, pleaded guilty in April to 15 charges – six counts of robbery, five counts of disguise with intent and two counts of breaching probation orders.
Before his sentence Thursday, Pecore addressed the court.
"Your honour, I can't change what I did. I can't change the past. But I have been working very, very hard to rehabilitate myself to make sure something like this would never happen again. I've used every single resource humanly possible that I could grasp in order to change. I've built relationships with my family members, my wife and my children. I have been able to, with the grace of God, to repair them. I am remorseful for the things that I have done to the victims and I accept whatever punishment comes to me today. Every action has a consequence and I do understand that. I'm sorry for my actions," Pecore said.
Pecore explained that he wants to continue on his path to become an alcohol and drug counsellor and use "every part of my soul" to help people. "I will achieve those goals," he said. He also thanked the court for giving him the opportunity to go to Harvest House – a Christian-based alcohol and drug treatment center in Ottawa.
Judge Bruce McPhee then gave his reasons for the sentence.
"The John Pecore before me today is not the John Pecore that committed the horrific crimes in the community over a period of time in January of 2015," Judge Bruce McPhee said in his opening remarks.
McPhee detailed some of the violent robberies in the community, such as the Jan. 13, 2015 robbery of Tropical Tanning on Pitt Street around 8 p.m. where a young clerk was "completely terrified" by the masked robber who took $464 in cash and $140 from the register. He then struck a witness in the head, who tried to intervene, before he fled.
The next night, there was an assault on a taxi driver, where the accused "wanted his money" and started to beat the driver in the face "causing injuries to his face and lips." Judge McPhee said the taxi driver tried to use the radio to call for help but Pecore ripped the radio out of the vehicle. "In my experience, over the years, taxi drivers are very vulnerable to being robbed – they operate at all hours of the day. Frequently, they are the targets of people like Mr. Pecore who need money for drugs. Those people need protection from the courts," McPhee said. "Another frightening episode."
Also on Jan. 14, 2015, the Petro-Canada on Brookdale Avenue was robbed where the night manager was forced to turn over all his money after being screamed and yelled at – Pecore got $125. "The clerk was in complete fear," McPhee said.
The Mac's Milk on Thirteenth Street was also hit for $40 and the MacEwen gas bar at 201 Second Street West was robbed around 6 a.m. where a female clerk was on duty. "Mr. Pecore was wearing a hoodie and, again, a black mask covering his face. So, for that female to be confronted at that time of day in the middle of the Canadian winter would be an enormously frightening event. (At) 6:12 in the morning on January 14th in any year, very dark out there," MacPhee stated.
The judge also recounted the Jan. 14, 2016 robbery around 9 a.m. of a "struggling small business" – Tiny Tots on Montreal Road. Pecore also got into a "tussle" with the husband of the owner when he intervened after seeing the robbery in progress from across the street. "Again, these people can only fear for their physical safety," McPhee said.
"It's one thing to say 'the drugs made me do it' but you made a choice to take the drugs didn't you? That's what this (sentence) is about. It's to tell people in this community (to) think about, before you take any drug, any mind-altering substance, because it can end up in a tragedy. Not only for you but for other people in the community. Witness the tragedies befalling younger people across the country who are dying from Fentanyl – smoking marijuana that unbeknownst to them is laced with Fentanyl. This is a very dangerous path for kids to follow and you (Pecore) serve as a living example of what can happen," McPhee said.
"You have done everything you can possibly do to right the wrongs. These people, their fear, anxiety, continues over the course of time. And while you can reach out and do the right thing by offering to send them (apology) letters, they just don't want to receive those letters. They don't want to have anything to do with you. They live in fear that they will see you again, you have to understand that. And I know out of the goodness of your soul you want to make amends, you have to do that in order ways. You simply have to leave these people alone. Let the passage of time provide them the peace and comfort that they need," McPhee said.
Pecore had come to today's sentencing with seven hand-written letters of apology he wanted to give to the victims.
Weighing the "complicated history" of Pecore, Judge Bruce McPhee gave the sentence, which will put the 34-year-old into a provincial jail, rather than a federal penitentiary, where he will have access to treatment for his drug addiction.
McPhee said the actions would have been fitting of a prison sentence of five to seven years based on the acts alone. The Crown had been asked for four years. "Make no mistake – all these people who are victimized are members of the public and criminal courts are all about protecting the public. If we don't do that in our sentences, the public loses confidence in what we do…loses confidence in the system," McPhee said.
The judge said it would be an "error in law" to impose a 90 day weekend jail sentence, offered by the defence, suggesting it would be overturned on appeal. "That would be a hollow victory. I want to make sure that what I do is the final word on the John Pecore matter."
Judge McPhee also took a moment to address the public on the sentence, which is at the lower end of the spectrum.
"The purpose of me taking the line on these offences is to say this – I would hope that the public understands that the courts are here, manning a bully pulpit, in order to correct the idiocy that some people commit in the community. The public has to know that if they are a clerk in a store or a taxi driver, (and) this sort of conduct goes on, the people (perpetrators) are going to penitentiary," McPhee said.
McPhee suggested, had it not been for Pecore's 15 months at the Harvest House rehab center, the sentencing would have "an elementary exercise for any court" implying a length prison term.
"A couple of these complainants thought they were going to be killed. That will keep your eyes open at night. Young kids who are drug-addled have to understand when they do this there's only one place and that's a jail," McPhee said.
Court heard Pecore never received a psychiatric assessment at the Brockville jail as ordered by the judge because corrections staff had transferred him back to the Ottawa Carleton Detention Center.
"Unfortunately, the assessments didn't happen. Obviously we're disappointed with that because it would have assisted the court," defence lawyer Paul Lewandowski said.
In addition to the sentence, there will be a lifetime weapons prohibition, a no-contact order with the victims and Pecore will have to submit a blood sample to the DNA bank. He also has to make restitution to all the businesses that were robbed.
Following the sentencing, Defence lawyer Paul Lewandowksi told Cornwall Newswatch it was an "extremely eloquent and passionate decision."
"I was extremely difficult sentencing because the fact is that everyone recognized that John Pecore had done so well. All that being said with a lot of the comments the judge makes, it should help him on the path to rehabilitation. Hopefully get to a facility that continues his rehabilitation and possibly parole back to Harvest House at some point," Lewandowski said.
"I know Harvest House doesn't give up on people and I don't think the judge gave up on Mr. Pecore so I think there's still hope there."