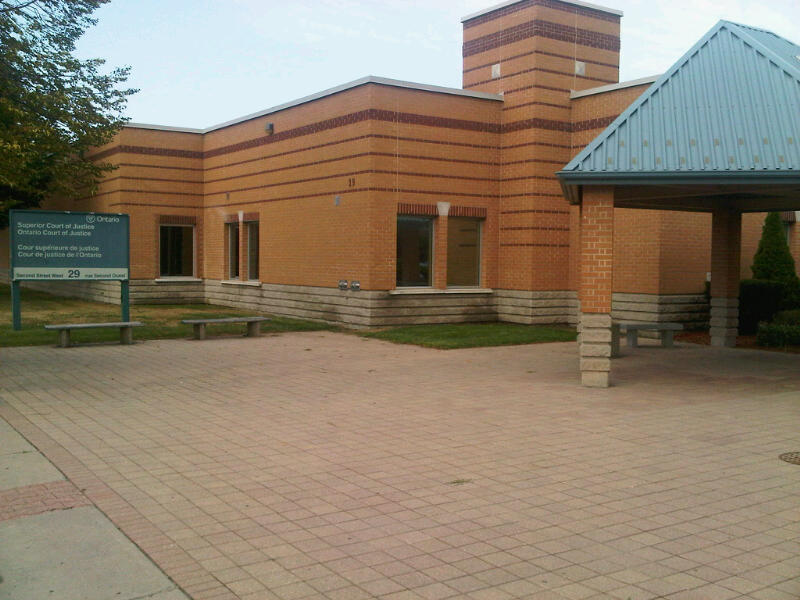 CORNWALL – A retired Glengarry priest has been given a one year house arrest sentence.
Denis Vaillancourt, 72, was sentenced this morning (Friday) for sexually assaulting a young man in his early 20s during a Labour Day weekend visit to the family's cottage in 2015.
Vaillancourt had inappropriately touched the man's buttocks and lower part of his stomach, above the waistband of his bathing suit, during the visit two years ago.
Before the sentencing, court heard victim impact statements from the victim, the man's mother and grandmother. We are not able to identify them due to a court ordered publication ban.
The victim said he was "not happy about this day but relieved" that the sentencing was going ahead. He said he went through a number of emotions: anger, denial and fear. But, speaking confidently, he said "I don't believe someone I trusted so much" would violate that trust, especially someone who had been "given a place in our family."
Court heard Vaillancourt was involved in many of the family's cherished moments – baptisms, weddings and funerals. The man said there were "so many memories ruined" and that he was going to need family videos edited to "get the parts cut out that you were in."
The victim's mother recounted the strong family support for her son from the beginning but how she wanted to "block this out of my mind."
"How could you, our priest Denis Vaillancourt, fellow family, so many members of our family had trusted like no other and considered our family priest. How could you not confess to these charges and suffer the consequences?" she said.
"You, Denis Vaillancourt, took the easy way out, hiding behind your priest robe and of course the shield of the Catholic church like so many of you had done in the past."
During her statement, the family matriarch held up pictures of her son's baptism and asked her son's abuser directly to look at them.
"When you baptized my precious son. There you are at the alter with my precious (name redacted). You're holding him…protecting him so he doesn't roll off or fall off the alter. That day was so special because you are welcoming him into God's kingdom. We knew we could trust you with him. How could you, years later, hold my son in your arms but instead of protecting him, you wanted him for your own sick and perverted needs?"
In his submission, defence lawyer Don Johnson said his client had a "momentary lapse" and a "moment of weakness" in 2015 and his otherwise unblemished record with the church "all came tumbling down." Johnson added that Vaillancourt did apologize after he was confronted and also confessed to police.
Crown attorney Elaine Evans argued the level of sexual conduct was not a mitigating factor.
She also expanded on the breach of trust and that Vaillancourt had retained a "battery of knowledge" on the victim through church confessions. She added there was a "profound betrayal" to the family which now has major life events "tarnished to some degree."
Evans was also looking for a jail sentence to send a message of general deterrence and denunciation, given the community is still reeling from the era of the Cornwall Public Inquiry and Project Truth involving prominent members of the community, including priests.
The Crown was asking for a 3-6 month jail sentence while the defence was asking for a suspended or house arrest sentence.
While both sides were somewhat apart, Judge Diane Lahaie moved ahead with sentencing right after the submissions in order for the victim and his family to have closure, as well as the perpetrator.
Prior to delivering her sentence, Vaillancourt was allowed to address the court. "I want to apologize again to (name redacted). I'm very sorry for what has happened. To his mother and father, (names redacted), I know I called you the day after, the 7th of September, to apologize. Maybe you don't remember. I want to apologize again for what has happened…today, again, I want to apologize for everything. Your honour, I know that, in a stupid moment, I did something wrong. But I can tell you that this will never happen again. I'm really sorry."
Judge's ruling
Lahaie agreed with the Crown that Vaillancourt had exercised an "egregious breach of trust" and, while she did believe Vaillancourt was remorseful, she still believed he was "still in denial."
But the judge felt the sexual touching crime was on the "low end of intrusiveness." She also noted the "deeply moving" victim impact statements.
Lahaie also talked about the Vaillancourt's background, his lack of affection in the family household growing up and a history of also being a victim of sexual abuse as an adolescent.
Vaillancourt was a priest with the Diocese of Alexandria-Cornwall for over four decades before his retirement in 2015.
Following his sentence, Vaillancourt will be on probation for one year where he will have to abide by a number conditions, including a no-contact order for the victim and his family.
The judge is also allowing the retired priest to serve his sentence outside the Province of Ontario, in his home town of Lasalle, Que.
Thumbs Up
(

14

)
Thumbs Down
(

20

)