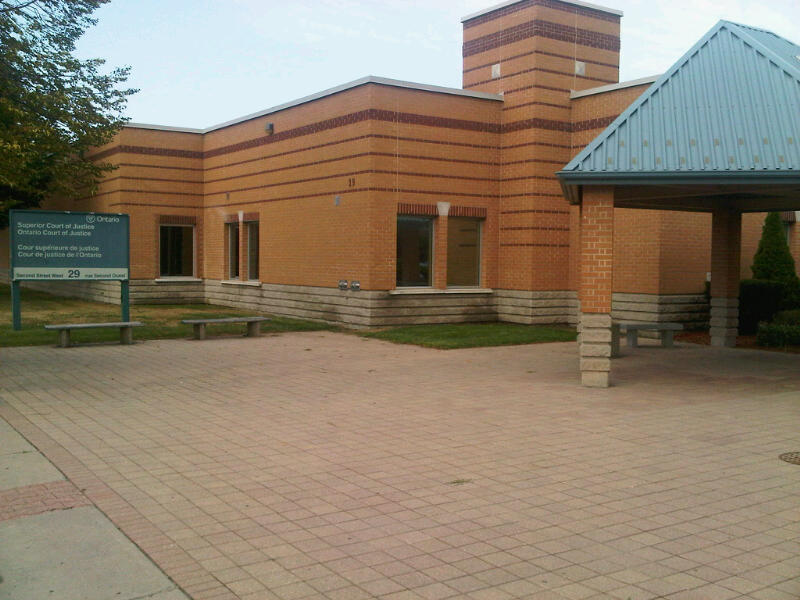 Only on Newswatch
CORNWALL – "I was just trying to protect my son."
That explanation from Lyndon Fawcett, as the 41-year-old Cornwall man was sentenced this month to two years in prison for having a loaded handgun in a Montreal Road bar.
Fawcett pleaded guilty Nov. 15 to unauthorized possession of a firearm, breaching a probation order by having a weapon, obstructing a police officer, carrying a concealed weapon, mischief and possession of cocaine.
Crown attorney Andre White said the handgun was pulled out during a booze-fueled fight between Fawcett and his son on Aug. 1 at La Maison. The whole scuffle was caught on a security camera inside the bar.
"The handgun from the waist area of Alexandre Samson (son) was taken out, fell to the floor, and the fight broken up. Police searched for the handgun but it had disappeared," White said.
Fawcett had hid the gun inside a metal container inside the bathroom of La Maison. Someone got the gun later – possibly Fawcett's son because he had access to the business – but doesn't know how the gun was taken out of the bar.
Police were able to identify the handgun after Fawcett posted a picture of it on his Facebook page. "He'd taken a photo of it and posted it on Facebook and you could see…he'd open the clip and there was ammunition loaded in the firearm," White explained.
"Very serious, obviously, to be possessing a firearm in bar and let alone when you're highly intoxicated and it's loaded. So we need to send a significant message but, all the same, this is a hefty sentence," White said.
Fawcett was also convicted of mischief for smashing out the back window of a Toyota Prius taxi cab with his hand while having a heated argument on the sidewalk and possession of cocaine, which was found during his arrest outside the same bar about a week later.
The majority of the sentence (16 months) was for the unauthorized possession of a firearm – a charge that used to have a mandatory minimum sentence of three years but was struck down in 2015 by the Supreme Court of Canada.
Judge Deborah Kinsella told him things would have turned out a lot differently if he had handed the gun to a bouncer instead of hiding it.
"If you'd just picked up the gun and then handed it to one of the bouncers or to someone else, even though holding the gun would be a breach of your order, you'd not be sitting here today. That's the sad reality of it," Kinsella said.
In addition to the two year sentence, Fawcett is banned from having weapons for life, he has to submit a DNA sample and has to make $200 restitution to the cab driver.
The sentence was agreed on between Crown attorney Andre White and defence lawyer Paolo Giancaterino after lengthy negotiations, otherwise known as a joint submission.
Thumbs Up
(

37

)
Thumbs Down
(

8

)