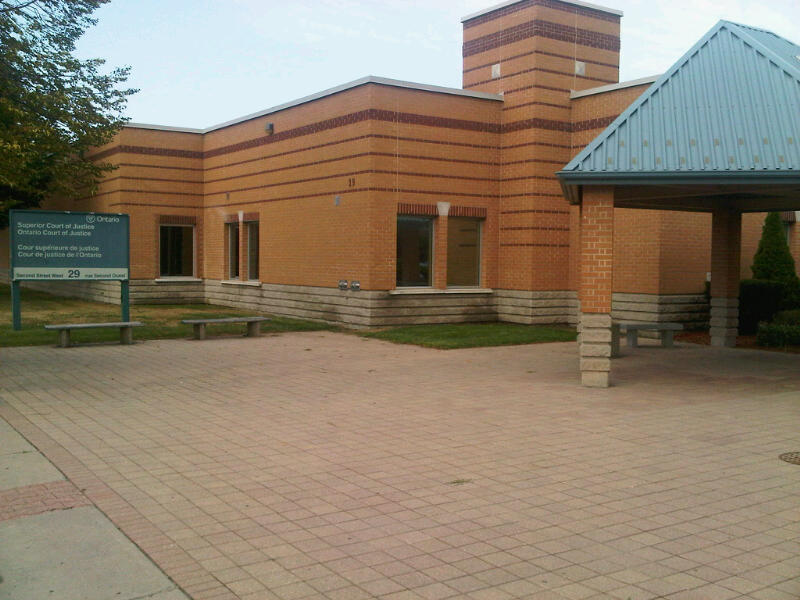 Only on Newswatch
CORNWALL – A New Brunswick man who drove a U-Haul cube van the wrong way on Highway 401 in South Stormont, trying to evade police and causing a crash, has been sentenced to just over three years in prison.
Cary Carriere, 47, of Grand Falls, N.B. was sentenced Tuesday (July 31) in a Cornwall court after pleading guilty to seven charges including dangerous driving causing bodily harm, flight from police causing bodily harm and failing to stop at the scene of an accident causing bodily harm.
After credit of 111 days of time served, credited at one-and-a-half to one, he will spend about two years and 10.5 months behind bars.
Court heard how Carriere had stolen fuel in Quebec and local O.P.P. Sgt. Peter Ralston, assisting the Quebec Provincial Police, had stopped him outside Cornwall on March 27.
After Ralston was given false identification, the officer reached inside the vehicle to turn off the truck when Carriere took off, running over the officer's foot and injuring his shoulder and arm. Ralston has recovered from soft tissue damage to his foot and arm.
Another tragedy would happen minutes later as Carriere crossed through an emergency turnaround in the median and sped down Canada's busiest freeway, going west in the eastbound lanes. Carriere decided to turn around, pulling a three-point turn in the middle of Highway 401.
He then got off the highway at Boundary Road, dumped the truck, and tried to run away before he was caught at a coffee shop.
Carl Liscumb – a truck driver in his personal pickup truck that day – tried to avoid the large cube van in the middle of the road but he couldn't. His Dodge pickup rolled several times in the south ditch, severely injuring him.
The courtroom was shown dash cam footage from another truck driver of the carnage that day. Judge Deborah Kinsella noted that in pictures also filed as exhibits, the truck was "nearly unrecognizable." It took emergency workers 40 minutes to extricate Liscumb.
Liscumb was not able to be in court on Tuesday but a member of the Victim/Witness Assistance Program (VWAP) was in the gallery for the sentencing. His back and neck were broken in three places. He will be seeing a nerve specialist and will be receiving shoulder surgery. He's a candidate for a nerve transplant which may restore the use of his shoulder to 70 per cent.
Crown attorney Michael Purcell said Carriere, a repeat offender, needed "separation from society," considering he had 60 prior convictions – one-third of them court orders. One of those orders, in effect on the day of the crime, was to not be in the driver's seat of any vehicle.
Carriere was also wanted by nine different police agencies in Nova Scotia, New Brunswick and Ontario and had a suspended driver's licence. The father of three also has a long history of gambling and drug addiction.
Purcell said the court needed to send an "unambiguous message."
Purcell said the victim's "life is permanently changed." Liscumb went through back decompression and fusion surgery. The Crown attorney noted the victim has left hand and arm weakness to the point he has lost the ability to grab objects. He may not be able to ride his motorcycle or drive a truck, Purcell explained.
Liscumb has not been able to return to work and his prognosis won't be known until sometime in November.
Defence lawyer Tobias Okada-Phillips asked for a sentence at the lower end of the sentencing range, arguing his client confessed on the day of the crash and pleaded guilty early, sparing the victims a lengthy trial. As for Carriere's record, Okada-Phillips said it was "not a great record but a 'not ever been to the pen' record."
He also asked the judge to take into account Carriere "self identifies as Aboriginal." A report from the Aboriginal Legal Services of Toronto concluded Carriere is 31 per cent native.
Addressing the court, Carriere started crying and said he was sorry. He wanted Liscumb to be in the courtroom so he could apologize in person.
Carriere said he hopes going to a federal penitentiary will give him better access to services for mental health and schooling to turn his life around and "be a productive citizen."
"Sentencing will not give back to Mr. Liscumb what he's lost," Judge Deborah Kinsella said. "That's not what the judicial system exists to do. It exists to hold people accountable. To send messages to members of the public that when people engage in extremely dangerous conduct, society needs to have that conduct denounced. There is an element of rehabilitation and that is not lost in this case," she said.
Here's how the sentence was broken down:
dangerous driving causing bodily harm – 30 months less 5.5 months time served
flight from police causing bodily harm – 2 months consecutive
failing to stop causing bodily harm – 2 months consecutive
impersonation with intent to avoid arrest – 45 days consecutive
breach of probation – 30 days consecutive
possession of stolen credit card – 45 days consecutive
breach of recognizance – 2 months consecutive
In addition to his sentence, Carriere is prohibited from driving for five years and has to submit a DNA sample to the court. There is $1,400 in victim fine surcharges, which Carriere has five years to pay.