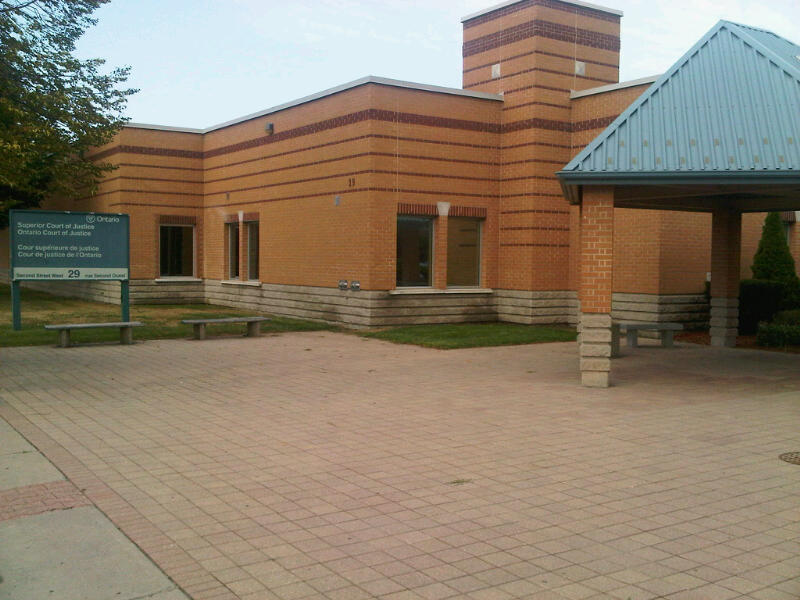 CORNWALL – A North Dundas man, accused of killing a man from Chesterville nearly a decade ago, made his first court appearance Friday.
James Henry "Jimmy" Wise, 75, is charged with first-degree murder in the death of 59-year-old Raymond Collison. Collison disappeared in 2009. His remains were later found in a Morewood ditch in April 2014.
Wise, in a wheelchair, was brought into a Cornwall courtroom before Justice of the Peace Ginette Forgues.
The court appearance comes a day after he was arrested at Dundas Manor in Winchester, where he is a resident of the long term care home.
Wise put his hand up to his ear as the judge began to speak, noting that he was hard of hearing. In a barely audible voice, he told the court he wanted his court proceedings in English. Wise looked unkempt with mussy salt-and-pepper hair. The elderly man was wearing blue jeans, black sneakers with white socks, and a dark green full-zip sweater with a checkered, collared shirt underneath.
He puckered his lips a few times and was bouncing his left leg as he listened to the judge. Wise appeared aged beyond his years after suffering a stroke several years ago.
Defence lawyer Ian Carter asked that his client be kept in the infirmary at the Ottawa Carleton Detention Center.
"Obviously, as you can appreciate, there are concerns about Mr. Wise's health. I have spoken with the investigating officers, who have passed on his list of medications to OCDC," Carter told Forgues.
The case has been put over until Monday (June 4) at 9 a.m. for an appearance via video "to determine the possibility of a bail plan."
Jason Pilon is the Crown attorney on the case.
"The initial concern I have is ensuring his good health when he's being detained," defence lawyer Ian Carter told reporters outside the courtroom.
"This is very early stages in the process. I have been given a summary of the allegations. I expect considerable amount of disclosure to be coming next week and at that point we can determine next steps including a potential bail application," Carter said.
Carter said he couldn't speak to Wise's state of mind but that his client intends to plead not guilty to first degree murder.
Asked whether his client could get a fair trial in SD&G given his notoriety, Carter said that will be taken into consideration.
"That will certainly be, given the history and the media coverage and issues of reputation. Whether that necessitates a change of venue application, that will be something we'll consider."
Wise has been a continual focus of the O.P.P. as they investigated a string of deaths in North Dundas, though he was never charged in relation to the crimes. He was charged with 10 criminal counts as part of the cold case investigation – none of the charges were murder or manslaughter – but those charges were dropped in October 2017.
Five members of the Collison family were in the courtroom. They declined to speak with the media.