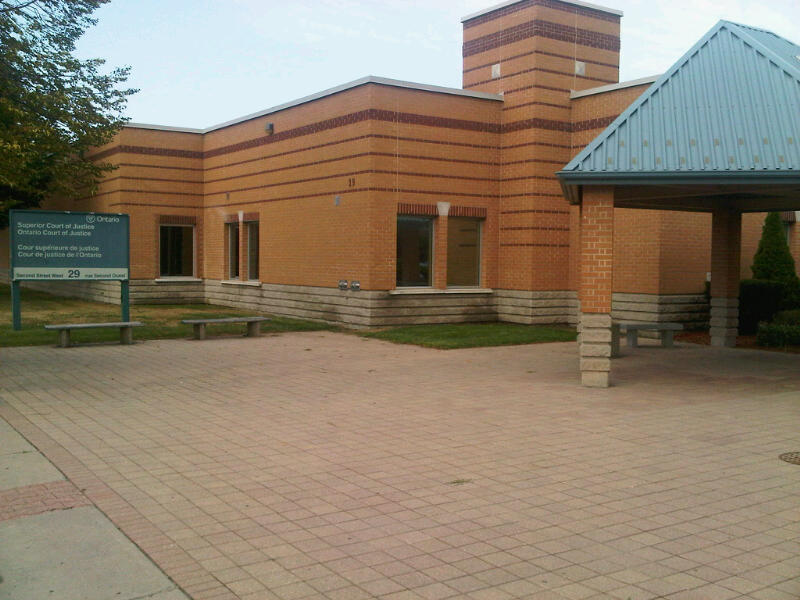 CORNWALL – The supervisor for Cornwall's social services department testified Monday their office dealt with a number of undeclared earnings issues and mysterious money transfers in the case of a Cornwall woman accused of welfare fraud.
Kaila Warwick, 26, is facing two counts of fraud, two counts of uttering forged documents and one of failing to comply with conditions. She is accused of defrauding the welfare system of just over $13,640 between July 2013 and September 2015 through a failure to report earnings and changes in her living arrangements. She has pleaded not guilty to all charges.
The prosecution introduced its first witness, Kendra Lalonde, an eligibility review officer overseeing the City of Cornwall's Ontario Works file. She has worked in the social services department for 23 years.
After the first minutes of Lalonde's testimony, Judge Deborah Kinsella suggested the Crown and defence meet to sort out the litany of paper evidence (20-30 exhibits) in order to make the process and questioning more streamlined. That took more than an hour before the court came back and then took a break for an extended lunch to allow both sides more time.
Under questioning from Crown Julian Johnson, the first part of the testimony reviewed reams of documents and pay stubs showing occasions in 2014 where earnings were either not reported and one where there was a reporting discrepancy when Warwick worked at the Ramada Inn. There was also unexplained money deposited into her bank account via ETF (electronic funds transfer) in 2014.
Lalonde then testified about two meetings with Warwick – one on Dec. 9, 2014 and the other on Sept. 30, 2015 – with regard to her case file.
Lalonde told court that Warwick had provided a written statement in December 2014 that she had received payments from her ex, Kyle Sauve, of roughly $450 a month on an irregular basis.
"She had advised me that they were not payments for support. It was money they had together. She stated that when she split there was $500 left in an envelope and she stated that he owed her $250 of that $500. She also stated that he agreed to help her get on her feet with her son," Lalonde testified.
Lalonde said her office was of the understanding that Warwick was not receiving any support payments but that Warwick was open to pursuing child support. Lalonde indicated there had been no support payments declared.
However, the Ontario Works office received records of e-transfers from July 2013 to March 2014 from records obtained from a family support worker in the Ontario Family Court, Lalonde said. "The payments were not reported to the department."
During the second meeting with Warwick on Sept. 30, 2015, "I asked her if she was currently working. She stated she was. I asked he where she was working and she said Rob McIntosh in Lancaster."
Lalonde testified that Warwick told her she finished her work at two previous employers – at the Flying J Truck Stop in March or May of 2015 and then began at Clean Streak at the beginning of September.
"I advised her that we had received information that she has started back in May (at Clean Streak)," Lalonde told court. "She (Warwick) stated, well, that's when the (employment) contract was written – August 2015."
Lalonde said Warwick "couldn't remember" when she got her first paycheque but it was biweekly.
"I then asked her about the (undeclared) electronic fund transfers (from April 2015 to September 2015) into her bank account. She stated that they were transfers from her parents and that funds were used to cover bills and expenses. I then reminded her that all sources of income needed to be reported and she voluntary provided me with a written statement."
On further questioning about the Clean Streak Professional Cleaning employment agreement, Lalonde testified she learned that there had been an attempt to alter the start date.
"At some point you had spoken to Pamela Latreille, the owner of Clean Streak where she had indicated…she provided information on when Kaila had started working there," Crown attorney Julian Johnson asked.
"She (Latreille) advised me that Kaila had been employed as an independent subcontractor with her company since May 6, 2015. She also advised me that Kaila had recently approached her to change her start date from May 2015 to August 2015," Lalonde said of a September phone call with the Clean Streak owner.
Lalonde indicated her office had acted on a "complaint" about Warwick's employment history.
The trial continues Tuesday at 9:30 a.m. where defence lawyer William Webber will cross examine Lalonde.
The prosecution is expected to have a total of three witnesses testify while the defence may have one or two. The trail was originally scheduled for two days but may have to be extended for an additional day.
Thumbs Up
(

17

)
Thumbs Down
(

8

)