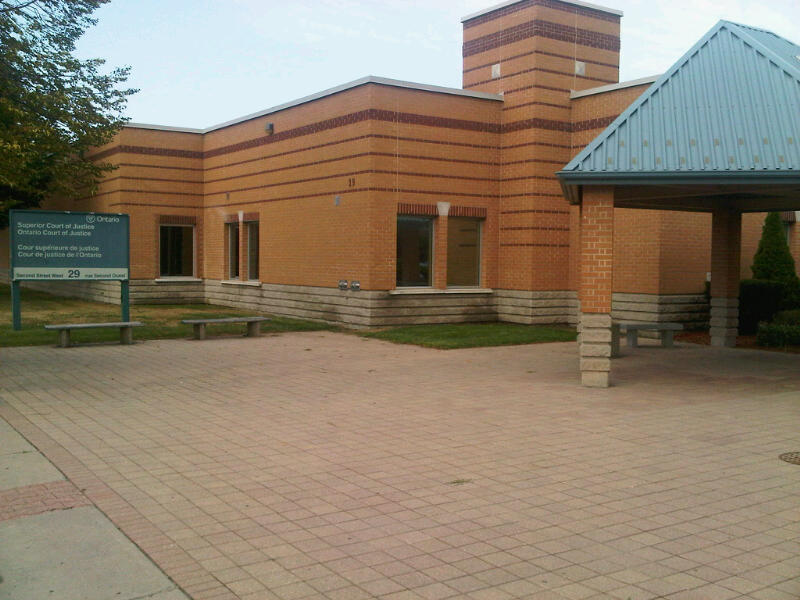 CORNWALL – Three men, involved in a well-established cockfighting event in April last year, have avoided jail time in a plea deal that will see them pay fines and make donations to the OSPCA.
Court also heard details Thursday, the operation had been running for roughly 10 years.
Sixty-two-year-old Ronald Bell and 56-year-old Norman Redick, both from Plympton-Wyoming, Ont. (Sarnia area) and Eric Thompson, 69, of North Dundas entered guilty pleas to one count of causing distress to an animal under the OSPCA Act (a Provincial Offences Act).
Bell was not in the courtroom Thursday but had a lawyer acting on his behalf.
They were among 11 men arrested on April 9, 2016 at a building in North Stormont.
Crown attorney Jason Pilon told court Gerald Tessier, 82, of South Stormont had hosted a cockfighting tournament on Tolmies Corners Road, south of Sand Road, in North Stormont.
Pilon explained that some of the men had brought their own roosters to the match – a total of 39 birds were on site. O.P.P. executed a search warrant after receiving a complaint about the illegal match.
"As officers approached the property they were able to hear the roosters crowing through the walls as well as voices inside. The officers entered through the side door in what appeared to be a holding area with numerous crates, cages and boxes and numerous roosters crowing," Pilon read from an agreed statement of facts.
"The officers opened the second door where they observed what appeared to be two cockfighting rings. In each ring, there were two people holding roosters preparing to allow them to fight as the remainder of the men were sitting around to watch it take place. Officers heard one male utter – quote – 'Who called on us?'," Pilon said.
The Crown attorney explained that all the men denied during O.P.P. interviews that they were placing bets on the fighting "but did not deny they were there for a cockfighting match."
Following the interviews, officers obtained a search warrant to seize items on the property.
Pilon said officers seized multiple metal spurs, documentation showing a history of cockfighting at the location dating back to 2005, documents on the rules of cockfighting and how to train fighting cocks and kits to equip the birds with the metal spurs.
"The searching officers also observed two cockfighting pits with what appeared to be dried blood on the boards," Pilon said.
Cockfighting is a blood sport where two roosters, trained and with a predisposition to fight other male birds, are set loose in a ring with metal spurs attached to their legs. They battle it out until one is seriously injured or killed.
The 39 roosters were seized by OSPCA Inspector Bonnie Bishop and were later destroyed, court heard. "It should be noted it's an automatic order that upon seizure these animal must be destroyed according to the code (Criminal Code of Canada)," Pilon said.
Money was seized during the police raid: Ronald Bell had $865.05 Canadian, Norman Redick had $680 Canadian and $11 American and Eric Thompson had $490 Canadian.
Fines and donations
Each man will have to pay a $250 fine as well as make a $250 donation to the SD&G branch of the OSPCA.
There is also a court order for all men not to own or possess gamecocks or fighting roosters for 20 years (even through current law forbids owning gamecocks). All the materials seized at the building will be forfeited to the Crown.
Each man involved has a no-contact order with others in the group and they will be on 12 months probation.
Crown attorney Pilon said similar sentences have been handed down to five other defendants in the case. He said the joint position on a sentence (negotiation to an agreement between the Crown and defence) came after a "great deal of discussion" including two judicial pre-trials and "countless" council pre-trials.
He said the sentence also takes into account some of the participant's advanced age, the fact any profit has been forfeited and the "scrutiny in the press…that secondary punishment."
The Crown attorney added that the property owner, Gerald Tessier, will be facing a slightly bigger fine and donation amount to the OSCPA given his involvement as the tournament organizer.
The maximum penalty for causing distress to animal is $60,000 and two years in jail.
Defence lawyer Michelle O'Doherty, speaking on behalf Norman Redick, said her client "will not be finding himself in this situation again. This is in the past for him and that he'll be moving forward and he never find himself in this situation again."
Lawyer for three other participants enters pleas
Later in the day, defence lawyer Don Johnson entered guilty pleas on behalf of three of his clients involved in the ring.
They are the cockfighting host Gerald Tessier, 82, of South Stormont as well as Thomas Carter, 87, of London Ont. and Richard McCormick, 69, of York, Ont.
The men were not in the courtroom for various reasons including extended vacation and health issues.
Those men will be sentenced in April.
What happened with the others?
Charges were withdrawn in December by the Crown against Gerard Delorme, 57, of North Stormont, Hector Racuya, 55, of Montreal, Que. and Arturo Sumayo, 58, of Montreal, Que.
Richard Patenaude, 62, of North Dundas and Philip Patenaude, 45, of North Stormont, pleaded guilty in December to the OSPCA charge.
Thumbs Up
(

6

)
Thumbs Down
(

12

)