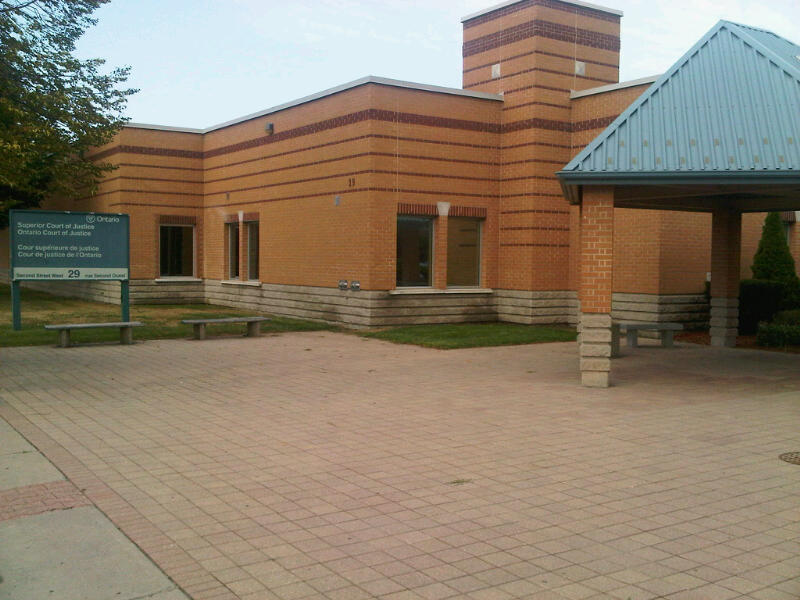 CORNWALL – A former store clerk has been sentenced to 75 days in jail for ripping off the owners of a "ma and pa" convenience store in Maxville for roughly $15,000.
Brittany Tremblay, 27, was sentenced in a Cornwall court Thursday after pleading guilty to a single count of theft over $5,000.
The maximum sentence is ten years in prison.
Court heard how Tremblay had systemically taken 367 gift cards over the period of a year on 90 different occasions while working behind the counter at Scott's Convenience (now the MacEwen gas station) on Main Street.
Each time the take was for about $150.
Tremblay was charged in December 2014.
Her lawyer, Ian Paul, asked for a conditional discharge or a suspended sentence, arguing that his client had made full restitution, was at a low risk to re-offend, she was under financial stress, suffered from depression and was in a abusive relationship. Paul added that a jail sentence may hamper Tremblay's ability to become an educational assistant or a nurse.
Crown Attorney Andre White had asked for a 6-9 month jail sentence, arguing that it wasn't about the overall dollar figure but the repeated actions and the scale of the theft at a small business.
'Our family did not deserve this'
Even though Tremblay had made full restitution for the stolen gift cards, the irreversible damage had already been done.
Angele Scott, aided by her daughter Nancy Lalonde, read a heartbreaking victim impact statement in court.
"We were deeply disturbed that an individual that we trusted with our business could betray us and be so dishonest," Scott said. "This was our business. Our livelihood. We worked endless hours over the last 27 years to establish our business and hoped that someday it would provide us with the financial security we would need to retire," she said.
Scott said they had to lay off staff and "my poor husband and I had to" work extra hours because of the financial strain. "There was a constant worry that we would not have enough money to pay our bills. At the time we just could not understand where the money was disappearing to," she said.
Richard and Angele Scott ended up using a line of credit to pay their bills. "We were in the public's eyes each and every day and prided ourselves in providing excellent customer service. It was extremely difficult meeting and dealing with customers on a daily basis and trying to face (them) and not show the strain we were under," Angele said as she broke down during her statement.
On top of the extra hours at the shop, Scott estimates she spent an extra 250 hours investigating the missing cards. The depth of the investigation robbed them of time with their friends and family, she explained.
Overcome by emotion, her daughter, Nancy Lalonde, picked up reading the victim impact statement.
"The constant worry caused us sleepless nights and stress. During the time between October to December (2014), I developed pneumonia and lost 20 pounds," Lalonde read.
"During the month of November, my husband fell ill. Shortly after that time he was diagnosed with cancer. If there was ever a time that I needed to be by his side it was during this time. I should have been with him at medical appointments that he was attending. However, once again due to the deadlines I had to meet in order to provide the O.P.P. with the information needed for their investigation, I was not be able to be there for my husband. As much as I would have liked to have been during this crucial time in our lives. Our priorities should have been each other and our family and spending the time we had left together," she read.
Richard Scott would later succumb to the cancer in February 2016. Lalonde said her father was deeply troubled and the "robbery weighed heavily on his mind" in his final days.
"On top of the theft we experienced within our business, I was also robbed of time with our loved ones and especially robbed of time with my husband while dealing with the extra hours of work. My husband was robbed of his peace of mind in his last weeks and days with us. Our family did not deserve this. This is time that can never be repaid to us," Lalonde said.
Tremblay addresses the court
Before giving his sentence, Judge Gilles Renaud allowed Tremblay to address the court.
"I am very sorry for what I did and trust it will never happen again," she sobbed. "I am so sorry I betrayed someone I worked for a I feel so bad for what I did. And also I want to send my condolences to the Scott family for their loss."
Judge says suspended sentence is 'not appropriate'
Judge Gilles Renaud opened his ruling explaining that even though the Criminal Code of Canada changed between 2012 and 2014 to put a greater emphasis on sentencing when it comes to how victims are affected, that's always been the case.
"The point that I'm trying to stress in beginning with the impact on the victim is that it's always been a factor that courts have taken into account. In his particular case, what in my mind is the most important element…is that the impact to the victim in the case is what is decisive."
Renaud said he recognizes this was a "significant loss" and has come at a time of "crucial difficulty" for the Scott family.
"I'm not of the view that a conditional discharge is fit. I'm of the view that it would be contrary to the public interest," Renaud said. "The number of occasions that the individual reached in the till so-to-speak. The number of times in effect her conscience did not rise up to tell her not to engage in this conduct she well knew was criminal."
Renaud explained that the setting in which the crime took place is also a factor. The judge said working in a "modest establishment in a small community setting," as opposed to a big corporation, would not have the same degree of supervision and monitoring – thus bringing a higher level of trust – trust that was broken in this case.
Renaud explained the public may not understand that an early guilty plea in this case is a very important mitigating factor, which spared the family an "extremely difficult" trial because it's harder for the Crown to prove a case beyond a reasonable doubt.
The 75 day jail sentence will be served in one continuous block – no intermittent sentence – in order to emphasize deterrence.
"This is one of those cases where the soul searching required will be dealt with on a straight time basis," Renaud said.
Renaud also added an element to his sentence to allow possible compensation to the victims for their lost time investigating the theft of the gift cards. In a criminal proceeding, the law doesn't really allow for compensation, which is typically a civil matter.
Renaud sentenced Tremblay to 100 hours of community service but she will be able to "purchase" an hour of service for $10 – potentially up to $1,000 going back to the Scott family.
Tremblay also has a no-contact order with the immediate and extended Scott family.
The 27-year-old was immediately taken into custody following the proceeding.
Thumbs Up
(

104

)
Thumbs Down
(

25

)