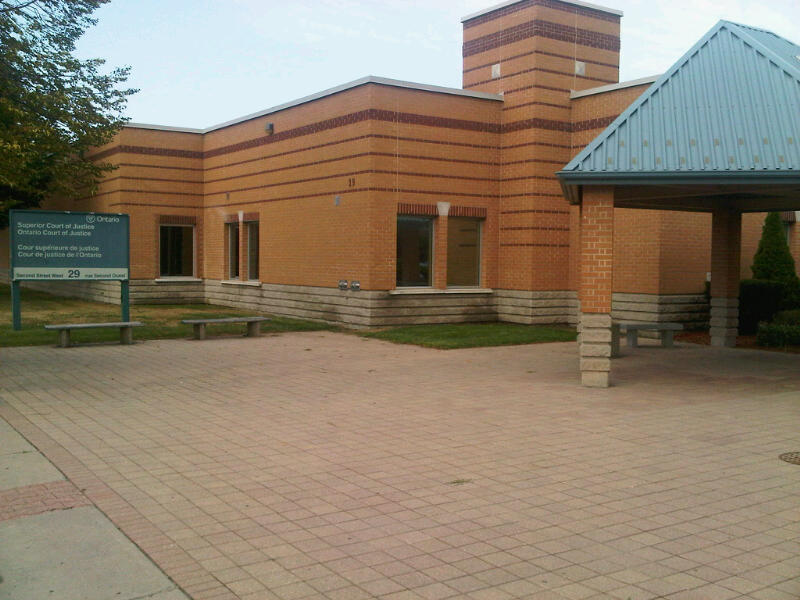 WARNING: The following story may be disturbing to some readers. Discretion is advised.
CORNWALL – With credit for time served, Judge Bruce McPhee has given a Cornwall man a one day sentence for indecent exposure at the Aquatic Center.
McPhee delivered his sentence Thursday morning.
Ladouceur, 50, had been facing five charges – two counts for breach of recognizance from an earlier sentence and three counts of indecent exposure.
McPhee dismissed one count of indecent exposure to a person under 16 due to insufficient evidence and ordered a conditional stay on the second count of exposure for a sexual purpose, in wake of the conviction on the third count of indecent exposure in a public place.
The one day sentence was after 109 days credit for time served. A sentence of one day on the two breach of recognizance charges will run concurrently.
"Obviously, what's at play here is to protect the physical integrity of those in the community – particularly children – who use the Aquatic Center and similar facilities," Judge McPhee stated.
The judge said the "most troubling" feature of the case was the conversation with a six-year-old boy in the change room where Ladouceur asked him if he needed help changing and if he had come to the pool with anyone. "It's overwhelming suspicious given the age difference," McPhee said.
Judge McPhee also noted Ladouceur's "significant" criminal record for violent offences – though none were sexual in nature. Ladouceur was also on release from other offences when the pool incident happened on Feb. 22, 2015.
McPhee thought the witnesses for the Crown were credible.
He thought the woman with five children was a "expressive, non-nonsense, matter-of-fact" witness. "She was concise and very persuasive. During her testimony she was very animated…very concerned about what had gone on."
While there were inconsistencies in her statement to police versus what she testified in court, Judge McPhee believed those issues were "peripheral" to her core complaint about a man exposing himself in a public place. He also felt there was no evidence to suggest the mother had any motive to fabricate what she was saying.
As for the testimony of her boyfriend, McPhee thought he answered questions in a "clear fashion" and had "absolutely no hesitation" and was "persuasive."
As for the accused, the justice didn't believe him.
"I do not believe Mr. Ladouceur. Why on earth would a man, 50-years-of-age, use the family room? His explanations are not credible. That, in my view, speaks to his thinking and his intent. It was at the very least highly inappropriate…I hold no doubt that the accused was walking around naked in the family room exposing himself to (the woman) and others, including children."
"This is a public facility where children are there all of the time. For a man to go into that area and behave like that is beyond the pale."
McPhee also appeared to put weight on Ladouceur's pre-trial custody and the conditions he faced at the Ottawa Carleton Detention Center.
"The conditions of incarceration at the Ottawa Carleton Detention Center have been acutely difficult for a long period of time. Some of those conditions include overcrowding, an absence of program, people sleeping in conditions which are indeed most challenging. While the accused is not entitled to any extra credit for the 109 days, being detained and awaiting trial puts a person in a situation where they're denied programming. In my view, taking everything into account, the punitive penalty…(I'm) satisfied with the 109 days. I'm going to impose one day," Judge McPhee said.
The Crown had been asking for a six to nine month jail sentence while the defence argued more about the conditions Ladouceur would face from such a sentence.
Ladouceur addresses the court
When given the opportunity, Ladouceur addressed the court before sentencing, maintaining his innocence up to the end.
"Your honour. I did go to the pool. Maybe I did a mistake by going in the family room. But I did not expose myself…I was waiting for my friends and they didn't show up and everything blew out of proportion. I never thought I was going to get charged and now I'm doing all kinds of time in jail for something I didn't do," he said.
Ladouceur also expressed worry about how he would explain the situation to his son. "I have a little boy and I'm so scared coming here and getting charged. My little boy's 15-years-old and his mom is with another lady – she's married to another woman – and he doesn't have a father…I've always been there to provide for him and I don't know how I'm going to explain this to him," he said.
"I'm sorry I went in the family room. I should have never gone in the family room. I'm paying the price for it I guess and I'm sorry your honour."
After he completes the one day sentence, he will be on 2.5 years probation.
Ladouceur also has to take counseling, has a no-contact order for the witnesses and complainants in the case and is not allowed to be in contact with anyone under the age of 16 unless he is supervised. The court made an exception for his 15-year-old son.
His lawyer, Ian Paul, indicated to the court that Ladouceur has been employed in manufacturing and now plans to take a tractor-trailer driving course through Employment Insurance.
Three family members of Ladouceur were in the gallery. Outside the court, one of those relatives, who asked not to be identified, was not happy with the verdict.
"I don't believe he did anything. He (Ladouceur) said I wasn't going to be accused for something I didn't do. Would you like to be accused of something you didn't do?," she said.