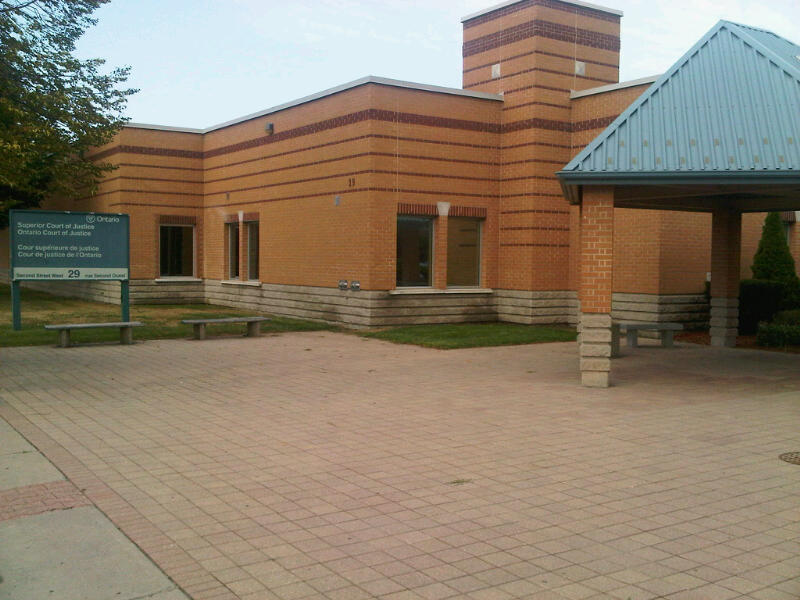 WARNING: The following story contains details of testimony that may be disturbing to some readers. Discretion is advised.
CORNWALL – A witness told a city courtroom she couldn't say definitively whether Roland Ladouceur was committing a lewd act in the family change room at the Aquatic Center in February.
Brika Henophy – a 31-year-old mother of five – was the first witness to take the stand Tuesday in the indecent exposure trial for Ladouceur.
Ladouceur, 50, has pleaded not guilty to three counts of indecent exposure and two counts of failing to keep the peace.
Henophy told court she went to the Aquatic Center pool on Feb. 22, 2015 with four of her children and a friend's daughter.
Henophy said she went into the change room where a man was in the shower with the curtain partially open, completely naked. She told court at first she "felt that I did something wrong" but it didn't click until she brought her other children in to change after swimming.
"There's the same guy from the shower again and I was so concerned that I put the baby in the locker so she wouldn't run around because he's exposed. I tell the kids, don't look back there, because there's a perverted, naked guy," Henophy testified.
The mother detailed a scenario where the man was in states of undress, wearing a pair of white shorts at one point, red underwear at another and then red pajama bottoms and was "all over the change room" while being naked.
"I was just thrown right off because at this point I had my child. The situation before, I felt I had done something pretty wrong because I glanced at someone taking a shower more or less. But then it all started coming to me that this situation is not right," she said.
Henophy suggested the situation intensified when the man was drying himself in an "up and down motion" with a towel, when she screamed for her boyfriend in the next room.
"I don't know what he (the man) was doing. I can't 100 per cent say. I don't want to imagine something else. I don't imagine he was masturbating," she conceded.
After leaving the change room, Henophy said she complained to the staff supervisor – Loretta Leroux – about the incident and later called police. She also wrote about it on Facebook, which he admitted was not the best decision.
During cross examination, Henophy bristled at the opening question from defence lawyer Ian Paul.
"So you exposed your children to a naked man?," Paul asked.
"Wow! Am I the person to blame?" Henophy snapped back.
Paul then continued with his questioning, suggesting that Henophy knew of the perceived danger when she first went in by herself, but then returned with one child and, again, elected to return again with the rest of the children to get them changed.
"You're saying today you have not told the pool staff that there was a man groping his privates? You wouldn't have said that?," Paul asked.
"I don't think I would have said that because I wasn't sure if that's what he was even doing," Henophy answered.
Paul then played a videotaped police interview for the court, recorded four days after the alleged incident, where Henophy uses the word "groping" in an interview with investigators.
Henophy's boyfriend, David St. Denis, took the stand next.
The 30-year-old St. Denis testified, after Henophy screamed, he came out of the washroom area to see a naked man back of the change room area, near where his son was changing.
"I saw him (Ladouceur) standing back there and I heard him ask my son if he needed help getting his stuff on or whatever and that's when I told my son to come over here," St. Denis said.
St. Denis said the man was naked until he approached his son when he had a towel covering is private area but his buttocks were exposed. "I could still see his rear end and everything."
St. Denis also noted that he never saw the youngest child put in a locker.
He also testified he was with his girlfriend when she made the report to pool staff.
Accused takes stand in his defence
The final witness of the day was Ladouceur.
The adamant – at times agitated – man told court at no time was be naked in the family change room because "it was packed" with adults and children.
He told court that he went to the pool, expecting his friend, Greg, with his two daughters as well as his 15-year-old son, so he went to change in the family change room, expecting them to arrive shortly.
Ladouceur told court that he wore his swimming trunks at all times, including rinsing off in the shower.
Defence lawyer Ian Paul asked Ladouceur how he changed after swimming.
"I changed with my towel. I took my underwear off under my towel and I put my pants back on right there," Ladouceur said.
"While you were doing that were your privates exposed at any point?"
"Not at all….the place was packed. I'm sure somebody would have said something," he said.
Under cross examination, Crown attorney Aquilas Kapend suggested that when his friend and son were a no-show that Ladouceur should have moved to the men's change room.
"You were there alone and thought maybe he (Greg) was going to show up. It doesn't stop you from going to the men's washroom to get ready there," Kapend said.
"I never read the sign because there's no writing. I didn't read the fine print if there is a fine print," Ladouceur said.
"If I had done something erotic, there would have been somebody that would have said something. There were at least 20 people there," he said.
"I didn't think I was doing anything wrong. If I did make a mistake, I'm sorry."
Closing Arguments
In his closing statement, defence lawyer Ian Paul suggested Ladouceur's actions were "a bad choice" but suggested they were not criminal in nature.
He also highlighted a number of inconsistencies in the Crown witness' testimony.
Paul also pointed to Brika Henophy's repeated trips to the change room despite the reports of a naked man as well as the fact she couldn't definitively say Ladouceur was performing an incident act.
He suggested Henophy had "maybe exaggerated things" and "maybe enjoyed the attention" after recounting the ordeal on Facebook.
Paul said there may have been an "error in judgment" but the evidence was clear that Ladouceur did not expose himself and that the "troubling aspects" of the testimony leave reasonable doubt with the court.
Crown attorney Aqulias Kapend said the accused knew he "should not have been in there in that change room."
Kapend also suggested that Henophy and her boyfriend were being honest because she would have nothing to gain by accusing someone she didn't know.
"There was no motive to lie or exaggerate," Kapend told court.
The Crown said the test for this case is the "community's standard of tolerance" and that Ladouceur "should have been covered and remained covered" in the family change room.
Judge Bruce McPhee will deliver his decision Thursday at 10 a.m.