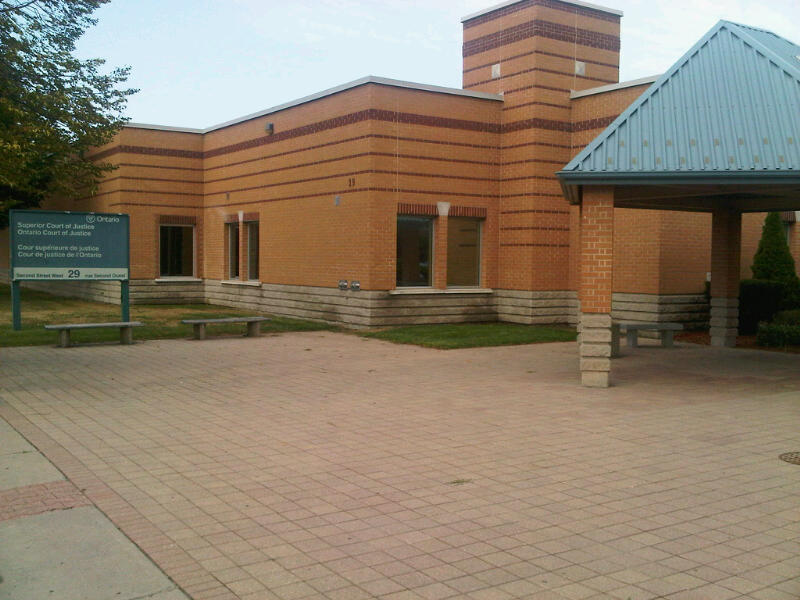 WARNING: The following story contains details of testimony that may be disturbing to some readers. Discretion is advised.
CORNWALL – A civic complex worker told court Monday she acted on a woman's complaint about a man exposing himself in a family change room at the Aquatic Center but never saw the act in question.
Loretta Leroux was the first witness to take the stand in the trial of Roland Ladouceur.
The 50-year-old Cornwall man has pleaded not guilty to three counts of indecent exposure and two counts of failing to keep the peace.
Leroux told court she worked at the civic complex for just over a year before the alleged incident on Feb. 22, 2015. She is not working there now after being suspended by the city "from another matter."
Crown attorney Aquilas Kapend asked Leroux how she first became aware of the complaint.
"The lady in the 3:30 p.m. swim, she came out and told me there's a gentleman in there that was in the shower area…naked….with the shower curtain open," Leroux told court.
The complex worker said it took her about two to three minutes to get into the change room after speaking with the lady.
Leroux testified she went into the family change room, which is for parents with children, but wasn't able to find the man at first so she had to go back out and speak with the complainant again.
After getting more information about the suspect wearing red pajama bottoms, she headed back to the change room. "At first I didn't know who she was talking about so I asked her to come and help me and she told me he had red pajama bottoms on. So when I went back I seen him in red pajama bottoms so I assumed it was this person," Leroux testified.
She found the man drying his clothes and asked him why he was there and then asked him to leave. "He said his son was supposed to come and he didn't show up. So I asked him why he didn't go into the men's change room…and he just shrugged his shoulders."
She later identified Ladouceur as the person she had spoken to, by pointing him out in the courtroom.
Ladouceur was wearing blue jeans and a striped polo shirt. The clean-cut man, with dark hair in a brush cut, sat in the prisoner's box with his arms crossed at times during the testimony.
Leroux didn't have a name for the mystery complainant, described as a stocky woman – roughly five feet seven inches tall – and had three children with her – and another man the defence lawyer described as a 'boyfriend'.
She later spoke to the woman that complained. "I walked out and I talked to the lady and I told her that I spoke to the gentleman and, was there something else that she would like me to do. She said 'no, thank you' and asked me to call her a taxi," Leroux stated.
Under cross-examination, the civic complex worker told defence lawyer Ian Paul she was later admonished for her actions. "I believe it was, yes, I handled it wrong. I should have called security," she testified.
"In this case, you felt that at the time you were only dealing with a complaint of a male in the shower, when the curtain was open, right?," Paul asked.
"Well, because I didn't see him in there or anything to that nature, but she (the complainant) told me, I just felt that he shouldn't have been in there," Leroux answered.
Under questioning from Paul, Leroux conceded that she never received a complaint about Ladouceur doing any improper sexual gesture, such as exposing his penis in front of a young child or groping himself.
"And had the lady made that kind of complaint to you would have probably called the police?" Paul asked.
"Yes," Leroux answered.
"You didn't receive any complaint this individual was making inappropriate sexual comments to a child, specifically..the individual had said to a child…'Are you here alone?' and 'Do you need help changing?'," Paul questioned.
"Absolutely not," Leroux said.
"Had you heard a comment like that you would have contacted the police."
"Absolutely."
The two-day trial continues tomorrow morning (Tuesday) when two remaining witnesses, including the alleged victim – are expected to testify.
Thumbs Up
(

10

)
Thumbs Down
(

4

)