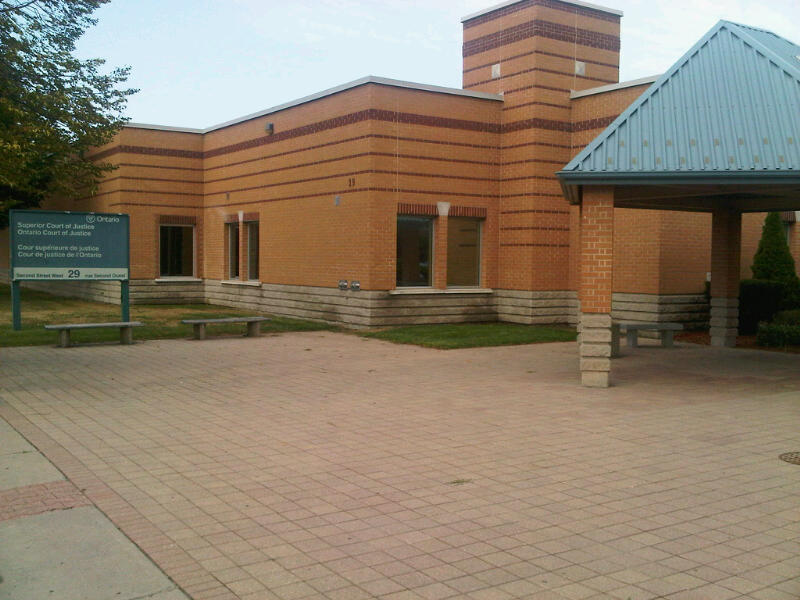 CORNWALL – A Superior Court judge has dismissed a conflict of interest suit leveled against the city's mayor and two councillors.
The lawsuit against Mayor Leslie O'Shaughnessy and councillors Elaine MacDonald and Carilyne Hebert had been filed by local blogger Jamie Ghilcig.
During proceedings Friday the mayor and councillors were represented by Bordon-Ladner-Gervais lawyer David Sherriff-Scott while Ghilcig represented himself.
Ghilcig had alleged the mayor and councillors were in a conflict when they voted for funding for a university study while they sat on the university steering committee.
At the beginning of the proceedings, Ghilcig tried unsuccessfully to remove Sherriff-Scott and his firm from the case, arguing that the lawyer could be in a conflict should city witnesses be called to the stand.
"A whole lot of what we do in this court on civil matters is based on record," said Judge Rick Leroy. "It was incumbent on you respond with evidence…and I don't have it."
The court spent considerable time trying to determine whether Ghilcig was planning to move ahead with the case or was dismissing the application.
"You're expected to know how to proceed. You're expected to be ready to go. Everyone engaged in these processes are under the same duress to proceed or to make decisions about not to proceed. The costs for proceeding in this court are significant," Leroy warned Ghilcig.
The judge said, even if he were to adjourn the case, he would expect court costs to be paid before the case would go ahead.
"My friend (Ghilcig) is a frequent user of the courts," said David Sherriff-Scott. "He has sued Mr. (Mayor Bob) Kilger, he has launched this application, he has sued Mr. Frost (city councillor Brock Frost) he's been involved with extensive litigation with other members of the community. He is a person who is before this court and other courts often."
Sherriff-Scott said he tried to convince Ghilcig to drop the application arguing it was "devoid of any merit."
'I don't see a cause of action': Leroy
Judge Rick Leroy, who appeared to be increasingly frustrated with the proceedings, took a few moments to suss out Ghilcig's "nub" of his case.
"This isn't about a case about me getting a payday…it's about the public interest," Ghilcig said.
"I don't see a cause of action. There is no conflict abuse. That's governance…municipal, provincial, federal. Every elected body has committees, particularly with municipal. There's no personal gain…there's nothing that contravenes the spirit or the law," Judge Leroy said.
"Members of council. I doubt there's a single council member who isn't on some committee. That may not be the case. There may be some who have avoided that responsibility. Council members are the point person for the committee at council. That's how it's always worked. There's no conflict of interest in that. This isn't a case where anyone is pocketing public money," Leroy said.
Seemingly running out of options, Ghilcig chose to proceed.
Application attacks mayor, councillors integrity: Sherriff-Scott
In his submission, Sherriff-Scott cautioned Ghilcig about making submissions suggesting the mayor and councillors voted to curry favour to finance their reelection. "These are ethical allegations that you cannot traffic with lightly."
Sherriff-Scott asked for a dismissal of the case.
Sherriff-Scott added the case is an "outrageous matter" that further attacks the integrity of his clients. He also suggested Ghilcig wasn't ready to proceed because the research wasn't completed.
"This is the Superior Court…this is not a game!"
In his argument for costs, Sherriff-Scott said the case was "utterly devoid of merit" and Ghilcig went ahead with the case "without thoughtful analysis."
He said the case is serious because it calls the integrity and honesty of O'Shaughnessy, Hebert and MacDonald into question.
Sherriff-Scott also suggested the case was launched "in order to create and manufacture stories on which the applicant could report, to use as a springboard to attract readers to his website or for his own self-aggrandizement," the lawyer added.
Sherriff-Scott, an 25-year expert in media law, said the case was launched with "intended fanfare" and "attempted to stimulate other media to report on it and when they didn't do that he criticized them too."
He also said articles were written with "demeaning and insulting" comments about his clients and others in the community. "He describes as vain and parasitical." The judge indicated the word "parasitical" jumped out at him. "Yes, it is a pretty outrageous statement," Sherriff-Scott said.
"I also suggest that journalists do not create stories and report on them. That is one of the major things journalists are not permitted and ought not to do. That is a big no-no in the world of journalism and that is exactly what happened here," suggesting costs should reflect making allegations in the public domain.
Sherriff-Scott said an offer to settle was personally served to Ghilcig on June 12 and argued the offer was rejected, suggesting the applicant wrote about it three days later.
Sherriff-Scott said the deadline to settle by June 17 came and went with no response.
"My clients are attacked in public by this man repeatedly with media articles on his website alleging conflicts. They are faced with an allegation they are not fit to act as councillors. It behooves them, I suggest, to act and act rapidly and to put these allegations down so that their names are cleared and they can operate as councillors without the stain of this hanging over them," he said.
Sherriff-Scott said it wasn't until June 22 when affidavits were sworn that he received an offer to settle from Ghilcig, provided all parties bare their own costs.
He said the offer was rejected because costs had already been incurred. At that point, costs were already in the neighbourhood of $5,500, Sherriff-Scott said.
Sherriff-Scott said he finally called Ghilcig on June 25 to "talk sense into him" and suggested the application be dropped and the time be used efficiently to assess costs. The offer was refused because Ghilcig had indicated he was "investigating all options," said Sherriff-Scott.
I have never attacked their integrity: Ghilcig
Ghilcig suggested in his submission he was bullied by Sherriff-Scott and that he wasn't prepared for an assessment of legal costs Friday otherwise "he would have prepared more information including a recording of the phone conversation."
"I write opinion. I have never…attacked their (the councillors') integrity. I attacked what they did in the sense that it's on camera," Ghilcig stated.
"I have acted out of good faith in the public interest."
"I don't think there should be any costs awarded in this," Ghilcig said, suggesting the documentation before the court didn't talk about the merits or the spirit about the conflict of interest allegations.
Ghilcig challenged the suggestion he's a frequent user of the court. "I have been in small claims court represented by a very fine officer of the court. I don't represent myself in these cases. I don't take being in this courtroom or any courtroom frivolously," Ghilcig said.
Costs awarded; respondents forgo interest
"I can only say the application content reveals a misunderstanding of governance, the committee role and the function of its members," Judge Rick Leroy ruled.
As he had earlier stated, Leroy said the actions of the respondents did not break municipal conflict of interest rules "technically or in spirit."
The judge says everyone is open to transparency but it "doesn't extend to exposure to vexatious…expensive legal harassment."
Leroy said the respondent did everything in their power to mitigate the process "and the applicant disregarded and forced the respondent's hand. They have to respond. When you trash people in public…trashing their integrity, their honesty, they have to respond."
Leroy awarded costs of $7,492.90.
The respondents waived interest on costs.
Ruling sends a clear message: mayor
Outside the courtroom, Mayor Leslie O'Shaughnessy was pleased with the ruling. "There was never a conflict. We were never in conflict whatsoever and I think that's a clear message to the people. We have a responsibility to be out in the public and to bring forward and to support public endeavors," the mayor said.
"We followed everything. We followed all of the rules," O'Shaughnessy added.
"This was vexatious on behalf of Mr. Ghilcig against the three of us. It's been settled with costs. Mr. Ghilcig will now be paying our legal costs."