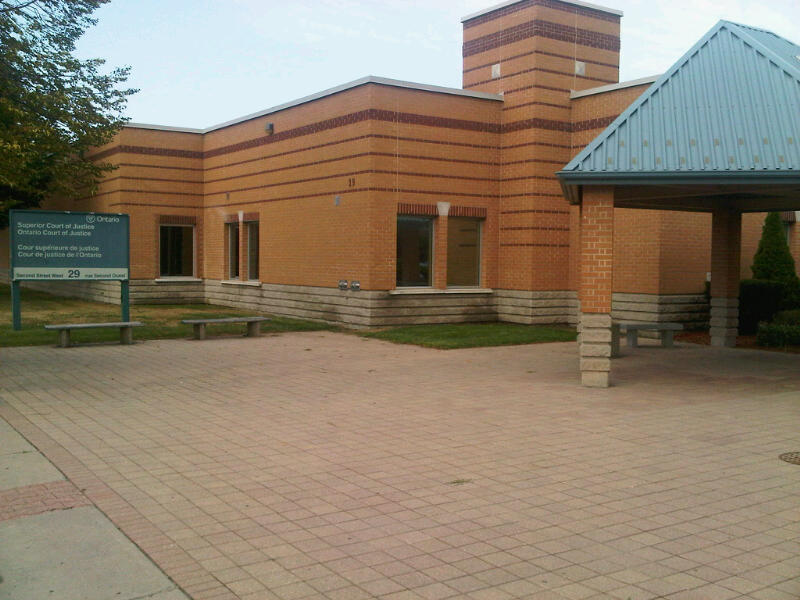 CORNWALL – A South Stormont man has been sentenced to a year-and-a-half in jail for the death of his lifelong friend.
Cole Tate, 23, was sentenced in a Cornwall court this morning (Tuesday) after pleading guilty in December to impaired driving causing death.
Tate was operating a snowmobile on a trial in South Stormont near Shaver Road in February 2014 when he lost control of the machine while under the influence of alcohol, killing his passenger, 21-year-old Daniel Andre, also of South Stormont.
Around a dozen members of the Tate family – many crying during the proceedings – listened to sentencing submissions.
There were no members of the Andre family in court and no victim impact statements were read aloud.
"You made a significant error in judgment," Judge Bruce McPhee said as he started handing down his sentence. McPhee said the families are "gripped with a sense of sadness and forlornness of what is to happen today." He said the Tate and Andre families will be "forever linked by this tragedy."
"The court takes no pleasure or satisfaction in dealing" with these types of cases, said McPhee, but "in many cases (it is) easily preventable…think before you drink. Make a plan before you drink," the judge stated.
McPhee also noted the overwhelming support from the community in the form of nearly 20 character letters submitted by defence lawyer Norman Boxall, some of which were from relatives of the victim.
Judge McPhee noted it's not often where the perpetrator and the victim are "linked in a lifelong friendship" and noted Tate's considerable showing of remorse for the death of Daniel Andre.
Court heard Tate has kept some cremation ashes of his friend in his bedroom to remember him. The two were friends since kindergarten.
"You've made a bad situation as good as it could possibly be," Judge McPhee added noting Tate had pled guilty at the earliest opportunity.
McPhee – who lost a relative to a drunk driver – also sided with the Crown on handing down a sentence that would deter others in the community from drinking and driving.
"This is about what you did, not who you are," McPhee said.
Defence lawyer Norman Boxall had been asking for no jail time and a possible house arrest sentence with probation plus a year's credit on any driving prohibition as Tate lost his driver's licence when he was charged.
Crown attorney Dan Brisebois was asking for two-and-a-half to three years in jail plus five to seven years probation in order to send a message to the general community about deterring drinking and driving. "It's not like a video game where we can hit start again," Brisebois stated in his submission. "Any sentence you impose will not reflect the value of Daniel's life."
In addition to the one-and-a-half year sentence, Tate will serve one year of probation and will be prohibited from driving for four years from the date that he entered his plea in December 2014.